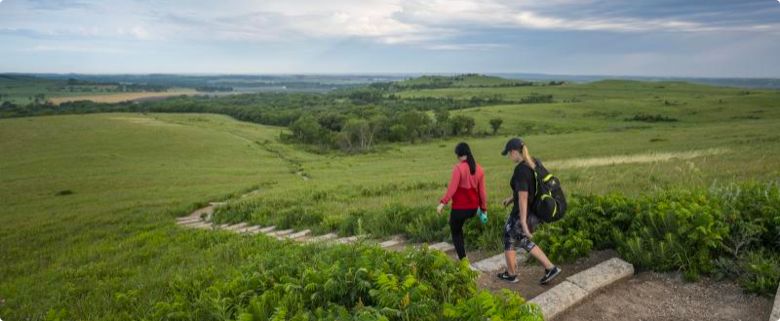 The city's 29 parks have fantastic amenities for year-round enjoyment.
Enjoy a relaxing picnic in the shade of a huge tree or on a picnic table in one of our 20 shelters. Kids can enjoy the afternoon playing on 13 playgrounds, at three pools or the splash park. Spend some time fishing at our five-acre stocked fishing lake.
Blue Earth Plaza
Blue Earth Plaza is a greenspace in Downtown Manhattan that serves as the centerpiece of the entertainment district.
Bluemont Scenic Overlook
The Bluemont Scenic Overlook is located off of Ehlers Road on Bluemont Drive and is a part of Goodnow Park. It offers a panoramic view of the original plat of the Manhattan community.
CiCo Park
CiCo Park is 97 acres and has five baseball fields, three tennis courts, a fitness trail, fairgrounds, playground, indoor community center, swimming pool, and USD 383's Bishop Stadium and Track.
City Park
City Park features amenities including a pool, splash park, shelter houses, tennis courts, playground, ball diamonds, trail, and more.
Douglass Park
Before being turned into a community center, the Douglass Park site served as a schoolhouse and surrounding grounds. Now, this neighborhood park includes a playground, nearby shelter, and a concrete basketball court.
Eisenhower Baseball Complex
Unified School District 383 donated the land for this park to develop a regulation size baseball field.
Frank Anneberg Park
Frank Anneberg Park features a premier sports complex for softball and soccer, playground, picnic shelters, lake, and walking trail. Nearly 2,000 baseball/softball games and 650 soccer games are hosted in the park each year.
Goodnow Park
Goodnow Park is home to a modern playground, a shelter for group gatherings, and a tricycle loop. The park also includes picnic tables and ample open space that allows for a variety of outdoor activities.
Griffith Park
Griffith Park was dedicated in 1936 by a city resolution as a "fine modern stadium." It hosts numerous youth baseball, softball, and soccer games each year.
Long's Park
Long's Park is a neighborhood park, often used for family gatherings and an occasional special event. Established shade trees, a play area, and shelter provide the ideal setting for these activities.
Northeast Community Park
Once used for farming, Northeast Community Park became the community park it is today with the help of several neighborhood and conservation groups. Just over half of the site is dedicated to manicured turf park activities, while the remainder is used for a native prairie grass exhibit.
Northview Park
Although relatively small in size, Northview Park is a community park that features a softball/baseball field, swimming pool, and playground.
Roger Schultz Community Park
This park is an undeveloped 93-acre tract of land that offers residents a unique opportunity to experience the beauty of the Flint Hills without leaving the city. It features one mile of mowed trails across the rolling prairie and wooded ravines.
Sojourner Truth Park
Sojourner Truth Park was purchased by the Urban Renewal Agency in 1972 for community improvements. Benches and tables near the playground make this park an excellent place to visit, and it also has a butterfly garden.
Stagg Hill Park
Stagg Hill Park offers 2 acres of outdoor space that includes a walking trail, playground, water fountains, picnic tables, grills, a bike and jogging path, open space for games, and plenty of trees for shade
Warner Park
Situated in the southwestern part of the city, Warner Park offers one of the largest expanses of undeveloped open space in the community. Naturalized wooded areas, open space, and select native prairie grass areas are the primary attributes of this park.
Back