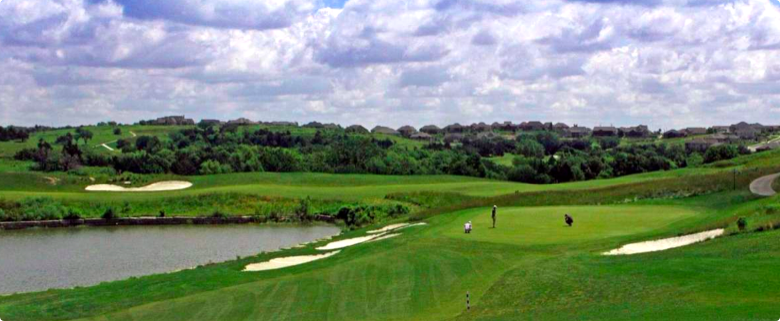 The terrain of the Flint Hills region offers superb panoramas to excite both the occasional golfer and hard-core scratch player. Manhattan features four distinctive courses from par-3 executive to the decades-old municipal and country club courses. A licensed PGA course in just its second decade of operation makes four well-rounded courses to play round after round in Manhattan, and a plethora of playability from a golfer's approach.
Colbert Hills Golf Course
This PGA-licensed collegiate facility features 18 holes of Flint Hills landscape, with native Kansas limestone and vistas up to 12 miles. It's received numerous awards including one of the top 10 collegiate courses and one of the 100 best value courses in the U.S. There are numerous tees to play varying in length from 4,600 yards to 7,600 yards.
Manhattan Country Club
This 100-year-old course plays relatively short (6,361 yards) with tight, tree-lined fairways. Play begins with six consecutive par-4 holes. Practice facilities include a driving range, putting green, and 36,000 square-foot short game practice area.
Stagg Hill Golf Course
Stagg Hill is a municipal course with teeth, this tree-lined course alongside the Kansas River has several challenging holes including one of the few target holes on the course.
Wildcat Fitness & Fun
Featuring 9-holes of golf and 18-holes of miniature golf, Wildcat Fitness & Fun is a public area offering activities to satisfy any fun seeker. The beautiful Midwestern golf course has six par-3s and three par-4s, with forest, bunkers, and native grass guarding the challenging greens. Wildcat Creek and Little Kitten Creek both add to the scenery and difficulty of the course.
Wamego Country Club
The Wamego Country Club golf course was originally designed by famed architect Chick Trout and opened as a nine-hole course in 1920. The new nine holes added to the course were designed by local architect Eric Langvardt. The par 70, 18-hole golf course nestled among the rolling hills of Wamego, Kansas was first opened in 1920 as a nine-hole course.
Rolling Meadows
Large bent-grass greens, demanding fairways and beautiful scenery add up to a unique golfing experience. Take a break and make a golf escape to Rolling Meadows Golf Course—one of the best-kept secrets in Kansas!
Junction City Country Club
Large bent-grass greens, demanding fairways and beautiful scenery add up to a unique golfing experience. Take a break and make a The 9-hole "Junction City" course at the Junction City Country Club facility in Junction City, Kansas features 3,077 yards of golf from the longest tees for a par of 36. The course rating is 34.8 and it has a slope rating of 127 on Bluegrass. Junction City golf course opened in 2010.
Leonardville Golf Course
Beautiful, well-maintained, sand green golf course in Leonardville, KS. This course is a challenging yet fun 9-hole sand green course.
University Park Golf Course
University Park Golf Course is a 9-hole sand green course with open fairways and blue skies. It is located near Tuttle Creek Lake.
Cool Springs Golf Course
Cool Springs Golf Course is a fun and challenging 9-hole course located in Onaga, KS
Back