Biking & Running Events
Outdoors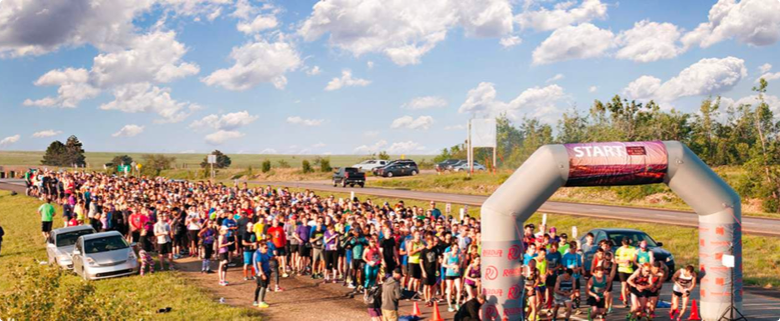 Manhattan is an active community with numerous trails and diverse scenery, which makes it the perfect place to host biking and running events throughout the year.
Bill Snyder Highway Half & 5K
Each year proceeds from this race are donated to charities chosen by K-State's former head football coach Bill Snyder. The course begins on Coach Bill Snyder Highway, goes through City Park, Aggieville, K-State campus, and finishes at the football stadium.
Little Apple Marathon
This marathon is four loops around the Tuttle Creek State Park area, but there is also a half marathon, 5K, and marathon relay race option.
Tallgrass Tribute & Konquer the Konza
The Tallgrass Tribute spring race consists of a 50K, 20 mile, and 14K, while the Konquer the Konza fall race consists of a 25K and 10K race on the Konza Prairie.
Just Tri It! Triathlon
Fun and challenging event for kids ages 5–14 and adult race for ages 15–112. Participants swim, bike and run in this 3-event race.
St. Patrick's Day Road Races
This is Manhattan's oldest running event in Aggieville where you can choose between a 10K or two-mile run/walk. Be sure to wear as much green as possible!
Turkey Trot
Each year on Thanksgiving, you can participate in this 5K race that starts in Aggieville, takes you around City Park, down Poyntz Avenue, and back to Aggieville.
BikeWalkMHK
BikeWalkMHK is a group of local citizens working to make Manhattan a better place to walk, bike, and bus through fun events, advocacy, and education. They host numerous events for people of all ages including weekly bike rides, critical mass rides, and more.
The Pathfinder Weekly Bike Rides
The Pathfinder is a local outdoor equipment store that hosts a variety of bike rides throughout the week.
Bleeding Kansas Gravelduro
This annual race features timed segments which include a flat time trial segment, a KOM/QOM segment, and four timed downhill segments. The course is 65-70 miles of central Flint Hills meandering gravel roads that pass through the Tallgrass Prairie.
Wildwood Adventure Park Trail Run
2 mile 20+ obstacle trail run is perfect for groups of friends/family, parties or offices with 10+ people to partake in. Some of our obstacles include a rope climb, monkey bars, hurdles and an 8-ft. wall that will challenge and encourage teamwork within your group.
Back