Tony Nichols didn't know he would retire from his 20-year military career in Manhattan, Kansas, but his real estate agent knew. In 2007, Tony and his wife Janet decided to buy a home in Manhattan after a change of duty station. Over beers at Finn's Bar downtown, Tony recalls the moment he learned of his future. "When I drove into town, I walked into a Coldwell Banker on a Saturday, and we met a real estate agent, who was also a veteran. He told me, 'You're gonna retire here.'"
Tony didn't believe him at first. After all, Tony, Janet, and their two daughters had lived in cities all over the country, and Tony had traveled to other parts of the world as an Army officer. But something about Manhattan charmed them over and over again.
Their first local love was their house downtown. "We bought the first house we looked at," Tony remembers. "We loved the stairwell and the clawfoot tub. When we walked in, it felt like home." Then they discovered all the activities for families in the community. "It's a wonderful place, if not the perfect place, to raise kids," Tony remarks. "The schools are great. There are a lot of things for kids to do. There's trick-or-treating in Aggieville and K-State football games." Living downtown only blocks from the library, Janet laughs about how they had to take a wagon to carry all the books their children wanted to read.
However, it was after part of the family's home caught fire that they discovered the depth of community and kindness Manhattan offered. Janet recalls, in 2009, Tony was deployed and due to return home within days when it happened. After friends and neighbors heard of the tragedy, Janet says, "People were dropping off toys for months." Tony adds that they lived with another family in town for 45 days while their home was repaired. "We started asking ourselves, 'Why would we leave? Look how generous these people are.'"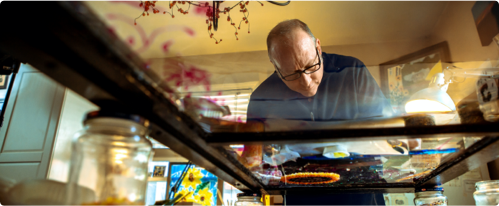 Since Tony's retirement from the Army, he found a new career while also staying connected to the military community and other local retirees in the area. As a glass mosaic artist, Tony works from his home studio while selling pieces around the country. His work is also featured at the Strecker Nelson West Gallery downtown, which is co-owned by an Army veteran.
Living near downtown and Aggieville offers the couple the opportunity to frequent many of the local restaurants they love, always on the hunt to discover new menu items. "We like HiLo burgers. They're delicious," Tony says, "The best brunch in town is five. Caleb is the owner, and he's an Afghanistan veteran. He is a good dude." Janet gushes about another downtown restaurant, The Wine Dive and Kitchen. "The fish tacos at Wine Dive are insane."
"We're here, and we're staying here," Tony says. "People here are so good, and you don't find that everywhere." Janet adds, "Manhattan is not like every place else. People here are exceedingly friendly. We lived in Georgia and South Carolina, but Southern hospitality has nothing on Kansans."
Article By: Sarah Siders
Back