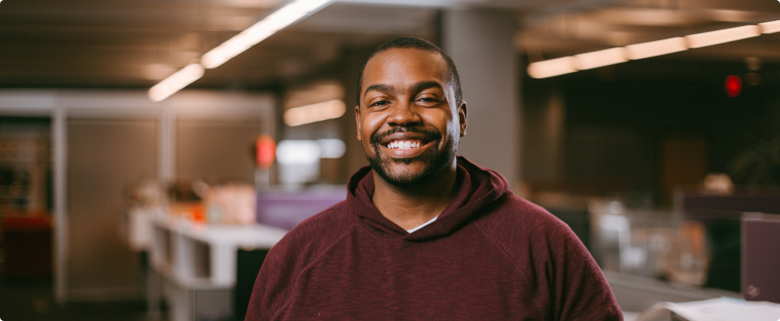 Home. Only four letters, yet an abundance of meaning. A house isn't a home; a home is a feeling. It's belonging somewhere, putting down roots, feeling secure, heard, and valued. Home, as described by Jonathan Rivers, is Manhattan, Kansas.
"Energetic, vibrant, and inquisitive," Jonathan says.
The three adjectives he uses to describe Manhattan provide a glimpse of a town full of life, full of opportunities, and full of people with ideas to make it better.
"We don't settle for 'good enough' here," he continues. "We ask questions. We're always asking what is next, what can be better."
Jonathan was born in Manhattan. He went to Bluemont Elementary, Eisenhower Middle School, and Manhattan High. His roots were planted in Manhattan, but they wouldn't take hold until years later when his own family — his wife, Ashley, and their three daughters — moved back after he attended Emporia State University and started his career in Wichita.
"I worked at a couple nonprofits in Wichita, at Habitat for Humanity and the Kansas Health Foundation. And as my wife and I decided to grow our family with our first daughter born in 2016, we started looking at moving back home— both in the practical sense to have our parents help with our daughter, but also because we both grew up around our respective grandparents and wanted that for our family."
Homeward Bound
Jonathan and his family made the move back to Manhattan where he started working for CivicPlus and is currently the executive assistant to the owner. CivicPlus offers integrated technology solutions for local governments to have the ability to provide important services through online methods.
In addition to his executive assistant duties, Jonathan also manages Green Apple Bikes, a nonprofit bike-share program designed to encourage a bike-friendly community.
"Traditionally, the assistant to the owner of CivicPlus also manages the Green Apple Bikes program," Jonathan says. "I'm able to keep feet in both worlds of the private sector as well as help with a charity that gives back to the community. Providing an affordable transportation option for those who lack it is the mission of Green Apple Bikes. One minute I might be trying to fix a bike, the next I'm helping the chief revenue officer of CivicPlus."
Feeling Right At Home
His experience in both nonprofit and private-sector/for-profit worlds lends a better idea of the variety of cultures in Manhattan.
"I appreciate the diversity here," Jonathan says. "I'm a Black man who grew up in Manhattan and lived in other locations, so I've seen other climates and cultures. Although there's always room for improvement to get diverse voices to the table, Manhattan is willing to make those changes and strives to be better about inclusivity."
Though Manhattan is filled with people frequently moving in and out, particularly Kansas State University Students and those affiliated with the military base at Fort Riley, there's an amicable aspect about the people who come for a while and the people who come to stay.
"The spirit in this town is formed by students coming in, by folks from the base, but it's also formed by the folks who have lived here who just want to see things be better for more people," Jonathan says. "That unique culture of not wanting to stay in one place, of wanting to move our community forward, is something that's fantastic about Manhattan."
Home Sweet Manhattan Home
Jonathan especially loves three things about Manhattan:
1. Its entrepreneurial spirit.
"Manhattan is constantly changing and building new opportunities to bring people in," Jonathan says. "Every time I came back to Manhattan when I was in college, there was always something new, something being built. I think about the downtown area — the Blue Earth Plaza, the National Bio and Agro-Defense Facility, the new K-State Foundation building on Kimball. But at the same time, there's all this familiarity as well."
2. The natural beauty.
"People might scoff when they think about coming to Manhattan, Kansas, to live," Jonathan says. "But the Flint Hills are gorgeous. We have trails, Manhattan Hill, Top of the World. It's beautiful here."
3. The educational opportunities.
"We take care of our families," Jonathan says. "We have quality education and great partnerships with local higher education like K-State, Manhattan Christian College, and Manhattan Area Technical College. I love those kinds of opportunities. There's a willingness to work together, create common-interest projects, and support one another."
Although Jonathan and Ashley questioned if moving their family back to Manhattan was the right decision, they're excited to be back.
"Once we got here, we felt good about our decision. Manhattan is a place that's accustomed and adept at welcoming folks. It still feels like the hometown I grew up in, and that's what I want for my daughters."
Article By: Sheridan Wimmer
Back