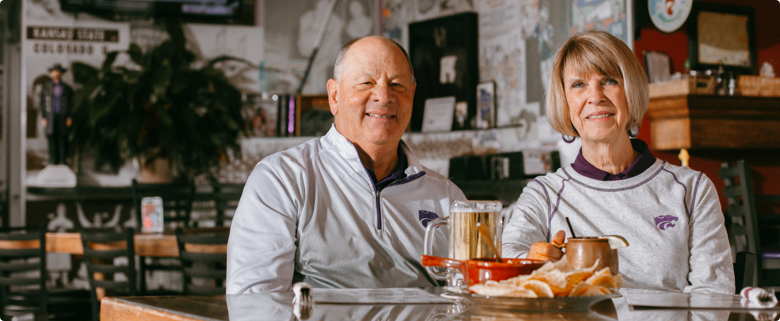 Kite's Bar and Grill occupies the same space in Manhattan's Aggieville district as it did when Cheryl and Mike Sieben met there in 1973. However, the city around it has never stopped growing.
They started as students, both leaving Kansas hometowns to attend Kansas State University, built a life as parents and professionals, and eventually returned as retirees. Mike says Manhattan is a town in which age doesn't matter — whether you're young or old, you can enjoy yourself.
"Go to a K-State football game, go out for a drink, or go bowling at the Student Union," he says. "It's a small-town atmosphere that still offers plenty to do. It's a diverse community, and it's easy to connect with old friends as well as meet new ones."
After graduating, Mike and Cheryl married and started careers in Manhattan — Cheryl as director of the Aggieville Business Association and Mike as a teacher in nearby St. George, and later with Kansas Farm Bureau. The couple also raised their two sons, Shane and Scott, in Manhattan, both of whom still live here today.
"Education is a priority here," says Cheryl. "Our boys had a good experience in the school system, as well as school sports and rec programs. We built a lot of great relationships with friends as we sat on the bleachers and watched our kids play."
In 2006, Mike took a job with National Crop Insurance Services in Kansas City, so the couple packed up and left the town they had called home for decades — but not for long. When it came time to retire, they knew exactly where to go. As the line says in the K-State alma mater song, "a spot I know full well."
"Most people stay in Manhattan and their kids move away after college, but we did the opposite," says Cheryl. "They stayed here and got established — Shane as a teacher and head coach and Scott as a restaurant owner — and we eventually moved back."
Both Mike and Cheryl say the opportunity to be close to their sons and grandchildren is what drew them back to Manhattan. They also missed being a part of the friendly, close-knit Manhattan community.
"It's so easy to meet people here," says Cheryl. "Before we moved to Kansas City, Mike and I had been so involved, and we really missed that experience."
When they started planning their return from Kansas City, the pair decided to build a home near the Colbert Hills Golf Course to live out their dream retirement. Their son Scott owns several local restaurants, including Mr. K's, which is just a short drive from their new Colbert Hills home.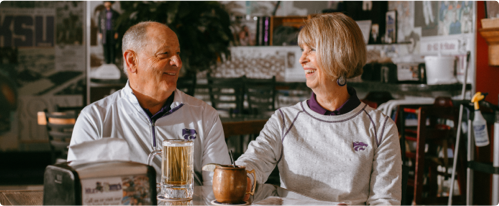 "We love bringing friends to Mr. K's for dinner and a few drinks," says Cheryl. "My perfect day is going for a walk on the Konza Prairie, taking a class at Chapter Five Yoga then grabbing dinner. We have a lot of fun."
Mike's idea of a perfect day in MHK is a little closer to home — a 9 a.m. tee time at Colbert on a calm day, and later barbecuing on the deck watching a beautiful Flint Hills sunset. However, they both agree on one major hobby — K-State fandom.
"We're still season ticket holders, so we go to a lot of games," says Mike. "We recently went with our son, daughter-in-law, and grandkids; it was really fun to see the game through their eyes. The university offers a lot of amazing activities, too, like the McCain Performance Series. It's great entertainment."
Both say they also enjoy local restaurants in the revitalized downtown, as well as eclectic shopping at nearby retailers. On K-State game day weekends, they often visit Aggieville to hear the Cat Band — K-State's lively pep rally band — play in packed restaurants and bars as patrons scream-sing the words to the Fight Song.
In addition to all this fun, Mike adds that there are plenty of ways to be involved on a deeper level.
"Retirees are often looking for opportunities to volunteer or help people," he says. "We have volunteered with the First Tee program, Red Cross, and our church. Manhattan makes it easy to feel like you can have a positive effect on the community."
Cheryl agrees, saying the beauty of Manhattan is that it can be whatever you need it to be depending on where you are in life.
"It's easy to be busy, but Manhattan is also a great place to relax," she says. "You notice if someone is new and strike up a conversation. People look out for each other here. It's a place to slow down and connect with your neighbors. That's always a good thing."
Article By: Megan Saunders
Back