Annie Spence & Laura Clement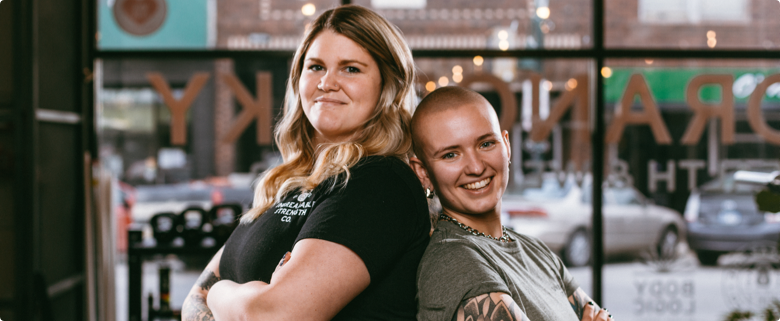 While Annie Spence and Laura Clement have shared interest in fitness, it wasn't a mutual gym or competitive team that brought them together four years ago — it was Bluestem Bistro, a cafe and coffeehouse near the Kansas State University campus. Annie worked there as a manager, and Laura was a frequent patron.
"I just kept seeing her, and we connected from there," Laura says, "and just kind of realized we both were into each other."
Now married, the pair have merged fitness, food, and community together in their work at Unbreakable Strength Co. Annie is the founder and head coach of the fitness company, and she started the business in 2017 after years of weight training and studying to earn a kinesiology degree from K-State. During her college years, Annie suffered a life-threatening injury that hospitalized her for several months.
"I think that galvanized my relationship to weightlifting, and that this was something that was lifegiving and sustaining and that I wanted to share with other people," Annie says. "I think it really helps me survive, not only [with] this traumatic crush injury, but to also come back and be able to still do the things that I want to do."
Laura also graduated from K-State, competing on the rowing team and finishing her degree in social work. However, Laura had worked several food service jobs before graduation, and that's where she circled back to once she decided social work was not her calling. Now, she's a catering manager and chef for Arrow Coffee Co., and she does some behind-the-scenes work at Unbreakable Strength, like marketing and hiring. Annie and Laura are both motivated by caring for their communities in fitness and food service, which often overlap.
"I think a gym is a place, much like a restaurant, where you can come, where people recognize you, where they know you, where they care about you," Annie says. "At the heart of it for both of us is, certainly, community building and loving others through movement and food."
While she initially didn't expect to stay in her college town, Laura says she is glad that she and Annie are settling down in Manhattan, which is also Annie's hometown.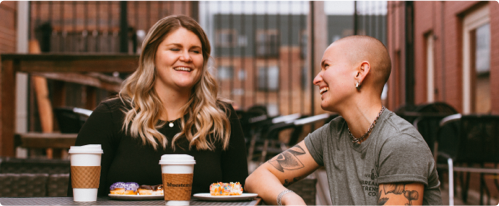 "I'm so much happier that we stayed here and have created businesses here instead of trying to move to LA, or move to Austin, or do all these other things that maybe wouldn't have been as fulfilling." Laura says.
Building a business in Manhattan is a priority to the couple because of the community they have cultivated here.
"There's cool gyms and cool food service industries in a lot of cities, but the people that we know and care about aren't in those cities. They're here, in most circumstances," Annie says.
Annie added that it's significant that she and Laura are young, queer women who are building business and community in Kansas.
"I think being able to be a face and be some of the adults that we didn't have around as much when we were younger is, I think, a cool opportunity for us to be like, 'Hey, there's queer people here in Manhattan, and we're part of your community in an integral way,' rather than like an adjacent thing or a novel thing," Annie says.
"We're just trying to create a space where all these marginalized groups who don't feel like they have a place or a gym will be celebrated here," Laura says.
Unbreakable Strength has recently partnered with Orange Sky Yoga, Body Logic, and Barre MHK to form the Orange Sky Health and Wellness Hub in Aggieville. It just so happens that the studio is right down the street from the cafe where Annie and Laura first met. With their business up and running, Annie and Laura want to further expand what their business can do to give back to Manhattan, a town they love.
"Now that the [Aggieville location] is open and everything, we're excited to really dip our hands into more service work, which has been the ultimate goal for us," Annie says.
Article By: Dene Dryden
Back